Kate Laws is one of the most energetic and enthusiastic people you will ever meet, with an occupational portfolio to prove it. She currently combines being Head of the Talent & Organisation Development Consulting practice for Connor with being Managing Director of her own business, INSPIRED Performance Ltd, while simultaneously maintaining other active commitments as advisor, coach and mentor.  She is, in her own words, 'a commercially minded, results driven people and business performance consultant with 17 years' experience spanning strategy, thought leadership and implementation across complex organisations.'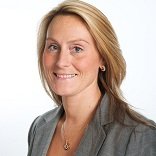 What this doesn't tell you, but which quickly becomes apparent when you meet her, is that she also has the rare gift of giving you as an individual her full and undivided attention. It is this which makes her such a skilful coach. It is this, combined with her personal drive and her business mind, which make her such an effective consultant and leader.
Kate has worked across a wide range of sectors including Retail, Financial Services, Technology, Professional Services, Utilities, Engineering, Manufacturing and Not for Profit.  She has a well-endorsed track record in the design and delivery of bespoke individual, team and organisational development solutions, including CXO and Global teams. She specialises in Leadership Development, People & Team Assessment & High Performance, Talent Management, Individual & Team Coaching and Cultural Change. Her passion is for creating innovative and pragmatic solutions to drive business and individual performance and to enable people to unlock their potential and reach their ultimate performance and career goals.

Kate became an accredited VoicePrint practitioner early in 2014 and has since made VoicePrint an integral element in both her own INSPIRED Performance programme and in the range of services provided by Connor. As she explains, 'We are so impressed with this tool, its specificity and relevance, the reaction from our clients and the impact it has had on the people using it, that we have embedded it into everything we do.'
A recent client of Kate's when speaking of their experience of Voiceprint delivered within a 2 day development centre said that Voiceprint was by far the most powerful and impactful development tool they had ever experienced and that the insight and direction about what and how they needed to change to improve was unusually pragmatic, understandable and clear.